M&M Postcards from Bavaria
This is the abbreviated version, just postcards really, of Michele and Malcolm's trip to Bavaria in May of 1997. A longer version is also available.

We had a great time. Here are some of the highlights.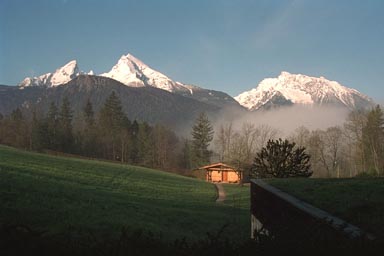 We spent the week at the Hotel Geiger in Berchtesgaden. It was really luxurious. Nice rooms with great food. This was the view of the alps from our room. We of course found ways to get much closer to the mountains. But this was a nice way to wake up.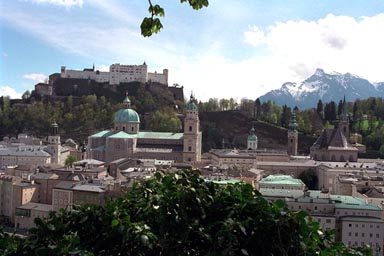 We spent a day, tired of the rain in the moutains, exploring nearby Salzberg. This is the view of the old city and the fortress from across the river. I think the most amazing part of the city is that most of the fountains had ramps so that the residents could walk their horses into the fountain for a bath.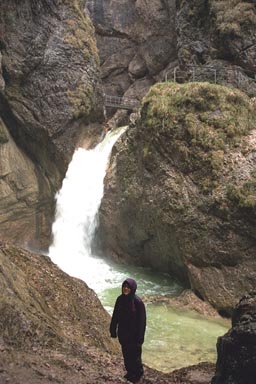 Almbachklamm, one of two wonderful gorges in the area. Michele and I spent a lot of time that week trying to stay dry. We still had a nice time. The two gorges were spectacular, but we really enjoyed walking up the river valleys.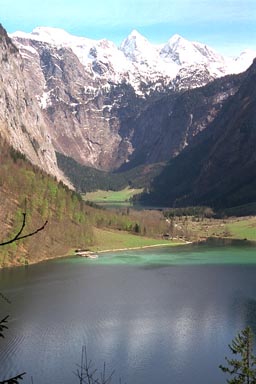 Our favorite part of the area was the southern half of Konigsee. The boat drops you off at the dock, then you can walk to Obersee and a really wonderful waterfall. We wished we had good weather and more time to climb the wall of the valley.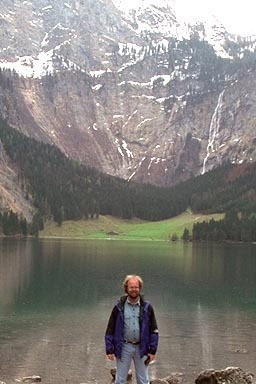 This is Malcolm with Obersee and a wonderful waterfall in the background.

---
All photographs on this page copyright (c) 1997 by Malcolm Slaney, all rights reserved. Last updated on May 20, 1997. As always, the best way to reach me is via email. Send comments, questions, or suggestions to malcolm@slaney.org.