le mariage de chat et chaz
june 5, 1999
program * synopsis * poems * runway talk * ceremony * closing * fun 1 * fun 2
program

foreplay: antics and amusements
court jester
act I: un cul de sac; saratoga, california; the present
scene 1: bridal procession, with bubbles
chat, chat mama, prima donna, chevalier de chat;
audience participation
là ci darem la mano, wolfgang amadeus mozart
zerlina y don giovanni
scene 2: syncopated synopsis of synergistic synapses
official officianado

act II: a literary salon; saratoga, california; the present
scene 1: i like my body, e.e. cummings
chat mama
scene 2: i crave your mouth, pablo neruda
prima donna
scene 3: a surprise wave of the wand, tubi wreafield
faery goshmother
scene 4: there's a strange frenzy in my head, jelaluddin rumi
this night there are no limits, jelaluddin rumi
primo uomo


act III: the nuptial gazebo; hot sparks, california; timeless
scene 1: parigi, o cara, noi lasceremo, guiseppe verdi
violetta y alfredo
scene 2: flight attendant's instructions
official officianado
scene 3: vows and kiss
chat et chaz
scene 4: confetti poppers
audience participation
act IV: une pas de deux dans le futur
scene 1: bridengroom procession, with bubbles
chat et chaz;
audience participation


scene 2: final suggestions
prima donna

cast, in order of appearance
| | |
| --- | --- |
| court jester | hilary jean marie von joo |
| zerlina | teresa berganza |
| don giovanni | ruggero raimondi |
| official officianado | richard cosmo adamo |
| chaz | charles clinton harris |
| primo uomo | manoucher birang |
| primo figlio | chandler harris |
| chat | lyn dupré |
| chat mama | dona depasquale oppenheim |
| prima donna | donna-marie ruth von joo-tornell |
| chevalier de chat | david henry oppenheim |
| faery goshmother | trish hooper |
| violetta | ileana cotrubas |
| alfredo | plácido domingo |
| | |
| music conductor | gregory graalfs |
| crowd controller | lucius von joo-tornell |
| costumiers | pyewacket, yoda, elf, ika, and vanna |
| coiffeur | ciseaux de chaz |
| milliner | aiguilles de chat |
produced and directed by lyn dupré (confusier) and charles clinton harris (confusier), with interference from the masked chorus (confusee).
biographies
acknowledgments
this program was made possible in part by contributed inspirations from
these sponsors:

le manse de chats: "always a pleasure"
1111 rue de rudé, saratoga, california
http://www.meowpurrs.com

guerilla school of song and dance: specializing in chest-thumping primal
yodeling
103 pas de bourée, saratoga, california
http://www.otherleftfoot.com

eros photographic studios: the imagery of passion; the passion of imagery
1092 back road, saratoga, california
http://www.silvernitrate.com

falling leaf massage parlor: hit-and-run full-contact high-intensity
kinesthetic massage
69 autumn way, saratoga, california
http://www.betternow.com

the museum café: private booths available; bring your own condiments
jardin de rodin, stanford, california
http://www.netsuke.com

the producers extend a special thanks to ann barry.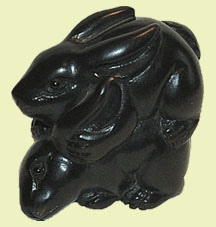 ---
program * synopsis * poems * runway talk * ceremony * closing * fun 1 * fun 2
---

(c) copyrighted photographs: do not reproduce without permission. lynxcat@mindspring.com

these pages created by malcolm slaney and lyn dupre'; a portion of the
pictures was contributed by various photogenic wedding guests.